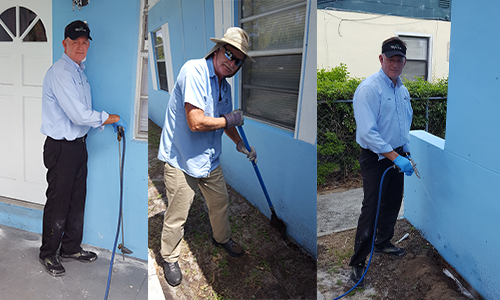 Pests are never welcome guests in a home—it's why they're called pests! The last thing you want is to find out there are ants in your kitchen or roaches in your bathroom. If you do uncover the presence of insects or arachnids in your living space, make sure they're dealt with quickly, before they bring harm to your home or your family.
Action Termite & Pest Control handles infestations at any level—from a few suspect flies to whole-home flea treatment in West Palm Beach. Whatever pests you're battling against, give us a call to turn the tide in your favor.
Ongoing Pest Control
For most pests, ongoing checks to your property are required. You don't want to waste the money on a one-time tick treatment in the West Palm Beach area only for these critters to come back in a few months!
We offer monthly checkups to deliver ongoing pest control to our customers. We'll not only help you eradicate the problem—we'll make sure it doesn't come back. Our pest control experts will gladly recommend proper rechecks and treatment intervals, so you're able to live confidently, pest-free.
Pests We Handle
We're capable of handling infestations of all types and have extensive experience when it comes to a wide range of critters. From roaches and antes, to spider and mosquito control in West Palm Beach, no matter how many legs we're dealing with or what the extent of the infestation is, count on us to resolve it quickly. Some of the most common calls we get are for:
Ants
Bees/wasps
Cockroaches
Fleas
Flies

Mosquitoes
Moths
Spiders
Ticks
Don't let bugs take over your home! If you notice a few more critters than usual or have uncovered an infestation right under your nose, contact our pro team today at 561-252-0247. We solve most infestations quickly and offer bi-monthly service treatments! Ask us about termite exterminating and rodent control too!